Dr Nicole Hayre Featured in Northern Virginia Magazine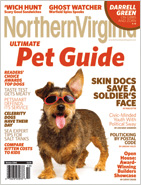 Dr. Nicole Hayre is featured in an article by Pam Lettie in the October issue of Northern Virginia Magazine. Ms. Lettie approached Dr. Hayre for the interview due to her expertise in the field of sun damage and skin rejuvenation. During the interview, Ms. Lettie was excited to learn that Dr. Hayre is the only physician in Northern Virginia with a Portrait® machine, so she concentrated her article on this novel device.
As some of you know by now, Portrait® resurfacing is a versatile and effective procedure which helps to decrease fine and deep wrinkles, reduce pore size, and reduce sun spots. The treatment also tightens and conditions the skin, and can be used to reduce some acne scars. Skin has been proven to grow new collagen for an entire year after it has been treated. This is how patients treated with Portrait® continue to look better and better.
With the idea of collagen regeneration in mind, Dr. Hayre has been taking Portrait® one step further. In her office, Dr. Hayre has been using Portrait® in an off-label indication for most types of scars. She has had success in treating both new and old surgical scars, and even stretch marks. Treatments for scars are usually performed once per month, with a minimum of three treatments. After treatments the area may have a sunburn-like sensation for a couple of days. The area may also exhibit some temporary darkening, which is treated with bleaching cream. Results do take some time to see, and usu-ally become noticeable between the second and third treatments.
Whether treating scars or wrinkles, results after Portrait® resurfacing are worth the wait.