Bellus Medical Launches Highly-Anticipated Allumera Photodynamic Cosmetic
Bellus Medical Launches Highly Anticipated Photodynamic Cosmetic
Allumera® is a breakthrough product that is the latest in medical aesthetics leader's growing product portfolio.
New Photodynamic Cosmetic Now Available by Bellus Medical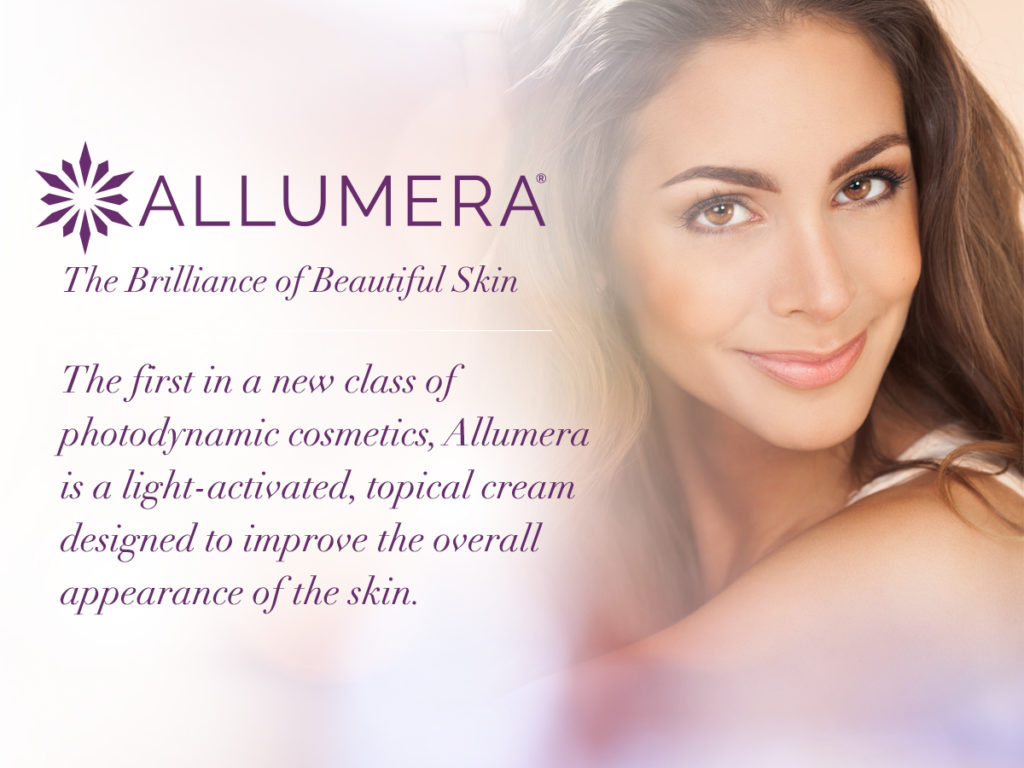 Bellus Medical, a leader in medical aesthetics, is proud to launch Allumera, a breakthrough topical cream that's the first in photodynamic cosmetic (PDC).
Allumera is the first PDC cream specifically formulated to improve the overall appearance of skin, visibly reduce outward signs of aging, and minimize the appearance of pores.
Real and Lasting Results.
Allumera is a light activated cosmetic consisting of a unique dual-phase formula that is applied to the skin by a healthcare professional. In a survey conducted after three procedures spaced four weeks apart, patients noticed these results*:
93% said their skin felt softer.
91% said their skin felt more hydrated, moisturized and smoother.
89% said their skin texture was improved.
86% said their skin looked and felt healthier.
In a five-month controlled, clinical study*consumers experienced a 44% reduction in the appearance of pores just after three procedures. Patients are experiencing dynamic results from this non-invasive procedure, all with minimal downtime that is tailored to fit busy schedules.
"Allumera fills a gap in the medical aesthetics market as a great solution for customers with visible signs of aging who seek a non-invasive, in-office treatment that will improve their skin with minimal downtime," said Joe Proctor, Bellus Medical President & CEO. "This product provides our practitioner partners with a tremendous opportunity to reach new patients, as well as grow their practices by introducing existing patients to cutting edge, non-invasive technologies ."
In April 2017, Bellus Medical acquired Allumera® from Photocure, the world leader in photodynamic technology. True to its ongoing commitment to provide the most innovative technology and only the highest in product quality and efficacy, Bellus Medical has spent the past few months testing and preparing Allumera for launch. This is the company's third, and highly anticipated, product launch this year.
"As a patient advocate, I am continuously involved in research and development. Allumera is a great addition for any practice looking to enhance the re¬sults of their light-based therapies, offering patients a non-invasive option with little to no downtime, " added Dr. Todd E. Schlesinger, Board Certified Dermatologist, Dermasurgeon and Cosmetic Dermatologist, South Carolina.
About Bellus Medical
Bellus Medical, headquartered in Addison, Texas, is an industry leader in medical aesthetics with an unmatched reputation of providing the highest levels of safe and effective products, along with the most innovative technology on the market. Bellus Medical was founded in 2012 and quickly became a pioneer in the medical microneedling industry with the introduction of its flagship product SkinPen®, a state-of-the-art microneedling device. The product portfolio continues to expand with unique and differentiated products that enhance the patient experience and represent a significant business opportunity for medical practices. Built upon three guiding principles – technology, education and customer service – Bellus is much more than a supplier to aesthetic practices, it is a trusted business partner. To learn more about Bellus Medical, visit BellusMedical.com. For more information about Allumera, visit myallumera.com