The Ultimate Guide to PRP
Game-Changing Face & Hair Rejuvenation With PRP in McLean
PRP at a Glance
Our bodies can do amazing things, and healing themselves is a big one. There's a lot that goes into the process of healing yourself, but that hasn't stopped science from harnessing it. Platelet-rich plasma (PRP) therapy is a remarkable way to use and amplify the healing power of our bodies. Take a look at all the ways PRP in McLean, VA, can help you!
What Are Platelets?
Plasma is the liquid in your blood, and it's mostly made of water and proteins. It's the way red blood cells, white blood cells, and platelets travel through your body. Platelets are responsible for many healing functions in your body, such as activating a healing response and clotting the blood.
More About PRP in McLean
How Is PRP Treatment Performed?
PRP is a concentration of platelets that are rich in growth factors that are critical for healing. These platelets are obtained by drawing your blood, putting it into a centrifuge, and spinning it down into its many parts. Your platelet-rich plasma is then collected, purified, and turned into an injectable. PRP in McLean has been shown to heal tendons, ligaments, and muscles. It has also been found to restore hair, as well as revitalize the skin on your face.
Why Choose PRP in McLean?
PRP therapy is a cutting-edge treatment in healing. It was first used to treat arthritis, muscle strain, tennis elbow, and even knee injuries. Your body heals in many stages, and PRP aims to harness that by addressing the initial stage that increases inflammation and cell proliferation.
This regenerative therapy is gaining attention for helping athletes recover from muscle injuries, heal skin conditions, and even contribute to hair restoration. Not only that, PRP is well tolerated by almost everyone.
Can PRP Be Used on All Skin Types / Skin Tones?
PRP is safe for all skin types and skin tones. However, it's more important that you find a professional that has experience in sensitive skin and dark skin tones. Some PRP therapy involves microneedling, and if someone is inexperienced with this technique, they can cause hyperpigmentation.
When you're choosing someone to perform PRP, it's critical to find a board-certified medical professional. Always check reviews online and ask to see before-and-after photos of previous patients.
What Does PRP Feel Like?
We're not going to lie to you. Any time you get needles injected into your scalp or microneedling performed on your face, you will feel it. However, the discomfort you might feel is manageable and our staff does a good job of mitigating any pain. For facial treatments, your doctor may recommend a local anesthetic. When PRP in McLean is used for hair rejuvenation, some patients choose to use PRO-NOX in combination with a scalp massage near the injection site, while others choose to just use the scalp massage on its own. With that in mind, you may feel slight discomfort for a short period afterward, which usually subsides with the help of Tylenol shortly thereafter. Most people return to their daily activities after their treatment is over.
When Will I See Results After Treatment With PRP in McLean?
The timeline for your results with PRP depend on the area being treated. Cosmetically, PRP is used for facial rejuvenation and hair restoration, and it can take several months before you see a noticeable improvement. But, you'll love the lasting results you get!
PRP for Hair Loss
Many people notice their hair growing back and getting thicker in about two to three months. To receive the maximum benefits of PRP for hair rejuvenation, it is best to get treatments once a month for three to four months, and then treatments every three to six months after that. PRP for hair always works best on hair that has just started to thin, so for the best results, visit a hair loss specialist for PRP injections as soon as possible.
PRP for Skin Rejuvenation
You'll begin to notice small results in about a week, and full results in a few months. Skin treated with PRP in McLean, VA, is smoother, firmer, and more toned.
PRP can be used to treat problems like acne, scars, large pores, and wrinkles. It can even diminish rosacea, which is almost impossible to treat with any over-the-counter product.
How Long Do PRP Results Last?
PRP results are long-lasting, and some treated areas have permanent results. The results from PRP for hair last for as long as you keep touching up thinning areas, and results with PRP for skin can last up to two years.
Tell Me More About the Results
Most people notice PRP results after one treatment, but almost all PRP therapies need touch-ups after a certain period of time. The only way to know what sort of PRP schedule is right for you is by scheduling a consultation with a board-certified dermatologist or hair loss specialist.
PRP for hair works best as soon as you start noticing an area thinning. It works well with many genetic hair loss conditions, postpartum alopecia, and even eyebrow thinning. You need a few treatments with PRP for hair, but your hair starts to grow back thicker and denser after your initial treatments.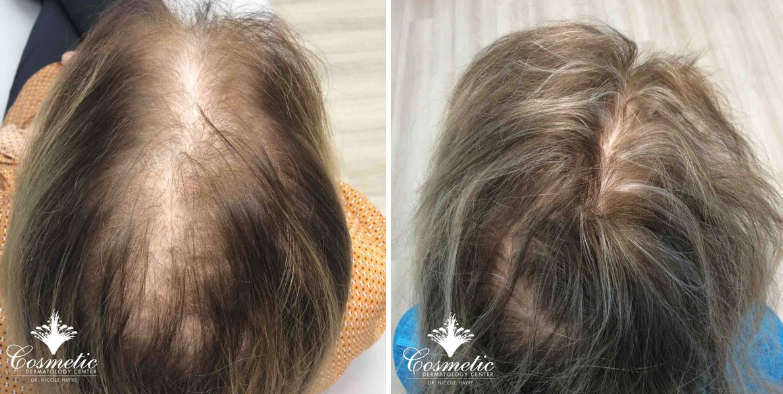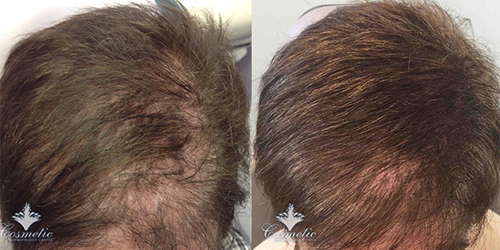 How Long Does PRP Take?
PRP in McLean, VA, takes very little time to complete, which is amazing, because of the amazing longevity of your results. It takes around 30 minutes to draw your blood and create your customized platelet injectable and an additional 30 or so to finish treatment. Each treatment is customized to your individual skincare needs. Discussing your aesthetic goals with your provider is essential to getting the best treatment for you.
How Much Does PRP Cost?
There are many factors that go into determining how much PRP costs. For one, your geographic location and your provider matters. Another factor that goes into the cost of PRP is how many treatments you need, and whether or not the treatment is for your face or for your hair. The best way to determine the cost and to find out if PRP is right for you is to schedule a consultation with a specialist.
How Long is the Recovery After Treatment With PRP in McLean?
There is little to no downtime with PRP for hair, and you are free to return to work the day after treatment. You can even use your regular shampoo and conditioner as soon as you get home. It is recommended that you avoid harsh chemicals like relaxers and hair color for a certain amount of time.
It takes about four to six weeks to fully recover from PRP for skin, which is because this treatment uses microneedling, though you can go about most normal activity the following day. You start to notice a clearer, firmer brighter complexion as soon as you start recovering from PRP.
What Are the Side Effects of PRP?
There are always small risks when it comes to injecting something into your skin, such as infection, nerve injuries, pain at the injection site, and possible tissue damage. However, since PRP uses your own blood, your body rarely recognizes the injectable as a threat, so the possibility of side effects are reduced dramatically.
Never be afraid to ask your provider any questions you have about PRP. The best PRP specialist will always make you feel comfortable and should never make you feel judged. If you feel like you can't communicate with your provider, choose a new one.
Am I a Good Candidate for PRP in McLean?
If you're in good physical health and are over the age of 18, then PRP therapy is most likely for you. There are certain kinds of hair loss that PRP just won't work on, so it's essential for you to have your thinning hair assessed by a board-certified dermatologist.
PRP for your skin and face is well tolerated by most skin tones and skin types. However, there are certain medications that could interfere with your healing process. Be sure to discuss your complete health history and any medications you're taking before going forward with PRP.
Where's the Best Dermatology Center to Go for PRP in McLean?
We have PRP therapy right here at Cosmetic Dermatology Center in McLean, VA! You've heard amazing things about this remarkable treatment, and now you can experience it for yourself.
Our board-certified dermatologist is an expert when it comes to the various treatments PRP can offer. We are results-driven and are dedicated to helping you achieve your aesthetic goals.
Contact our office online, click the button below or give us a call at 703-827-8600 to request a consultation for PRP in McLean.