Nicole Hayre, MD, FAAD
Founder and Board-Certified Dermatologist
About Dr. Nicole Hayre
Nicole Hayre, MD, is a board-certified Dermatologist who founded her office, the Cosmetic Dermatology Center, in 2003. Her passion for her field and her eye for detail have propelled her office to the forefront of Dermatology in Northern Virginia, earning it the title of "Best Dermatology Office" in Virginia Living for several years.
She has published multiple scientific articles and has also made several appearances on WUSA9, been featured in an article in Northern Virginia Magazine and quoted on MarketWatch, and in Medical Esthetics Magazine. She was also appointed as an editor of the the International Journal of Clinical Dermatology.
Dr. Hayre has always had a passion for science and worked in research during her undergraduate years while attending the Massachusetts Institute of Technology. Dr. Hayre received her medical degree from the George Washington University School of Medicine and Health Sciences, and trained at the Washington Hospital Center and Medlantic Research Institute becoming a board-certified Dermatologist.
Her scientific expertise was further nurtured working in laboratories for Merck Pharmaceuticals and on the Human Genome Project at the National Institutes of Health. She nows utilizes her scientific background in the field of Dermatology, and has been a sought-after representative for multiple laser companies including Alma, Viora, BTL Aesthetics, and others. Dr. Nicole Hayre has also been at the forefront of cutting edge techniques such as non-surgical facelifts with dissolvable sutures, cellulite treatments, or "threads" and has been a trainer for some of their manufacturers. As a top injector of Botox™, Kybella™ and fillers, Dr. Nicole Hayre's office is one of the top ranked in the country by Allergan, the manufacturer of these products including the entire line of Juvederm™ fillers.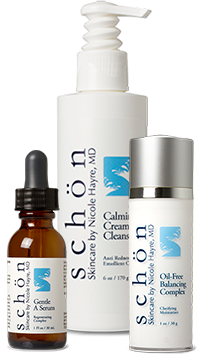 Schön Skincare
Helping Every Skin Type Achieve Its Beautiful Potential
Dr. Hayre has utilized her dermatologic training and scientific background to create her own skin care line, Schön. Schön was launched in 2013 and has developed a devoted following due to its extremely effective and vast product line.
Cutocin®
Love For Your Skin
After many years of research, Dr. Hayre was the first to discover clinical proof that love and affection cause Oxytocin release which helps to keep the skin healthier and more youthful. Harnessing the power of science and nature, through a natural, patent-pending hero ingredient that mimics the affects of Oxytocin on the body, Dr. Hayre is proud to launch a breakthrough product in the area of skin rejuvenation, Cutocin®
Dr Hayre's ground breaking study was a featured article in the prestigious Journal of Drugs and Dermatology and named one of the Top 20 Stories of 2021 in Dermatology Times, where she was also interviewed on the subject.