DermaFuse
Achieve a Healthy, Youthful, and Toned Appearance
DermaFuse at a Glance
Most people have more than one skin issue or body concern, yet it's difficult to find any single procedure or device to treat them all. You may get results for your wrinkles, but you still might suffer from hyperpigmentation. You may have success treating skin discoloration, but still need help toning your abdomen. The point is, no one device has been able to accomplish all of these things together, until now. If you're looking for a solution to solve your skin issues and body toning concerns with just one device, then it's time to look into DermaFuse in McLean, VA.
More About DermaFuse
Why Choose This Unique Treatment?
DermaFuse in McLean, VA, is a highly customizable skin treatment that can be used on the face and body to address issues like the signs of aging, hyperpigmentation, acne, loose skin, and more. It uses ElectroFusion to deliver serums and other high-quality topicals while using current, pulsed light and radiofrequency technology.
What Does DermaFuse in McLean, VA, Feel Like?
DermaFuse is a non-invasive and needless treatment. It's pain-free and requires no downtime. You can receive treatment and return to all of your regular activities. Each step used with this incredible treatment is hand-picked for your individual needs.
When Will I See Results?
You see results immediately after treatment. Your skin will appear tighter, smoother, and much more supple. You should get six to 10 treatments to experience maximum results, and one treatment a month after that to maintain your results.
Am I a Good Candidate for DermaFuse in McLean?
The best part about this unique device, besides its instant results, is that this treatment is safe for everyone. You can choose steps that take care of acne, brighten your skin, provide long-term moisturizing, and boost your collagen production. Talk to a professional about how to get the best DermaFuse treatments for your skin.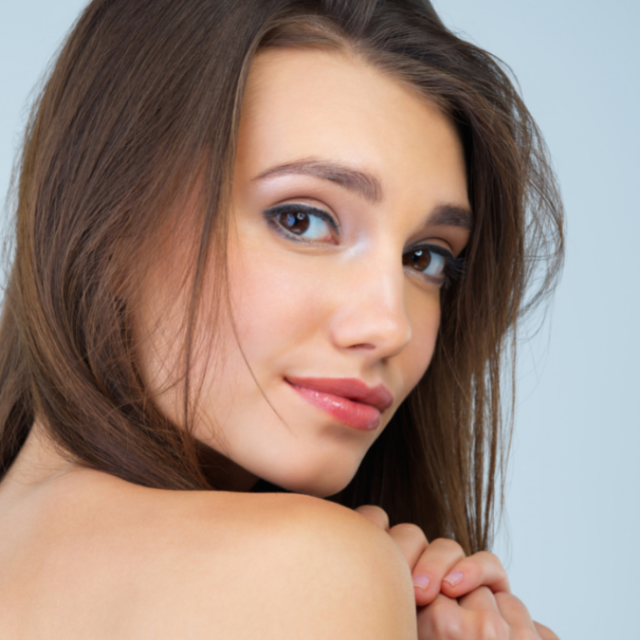 Where is the Best Place in McLean, VA, to Go For Treatment?
If you're ready to finally get a treatment that provides real results for your skin, then visit Cosmetic Dermatology Center for treatment in McLean, VA. Don't forget to ask how well it works with other treatments like IPL therapy. Call 703-827-8600 today to make an appointment. You're going to be stunned by your results!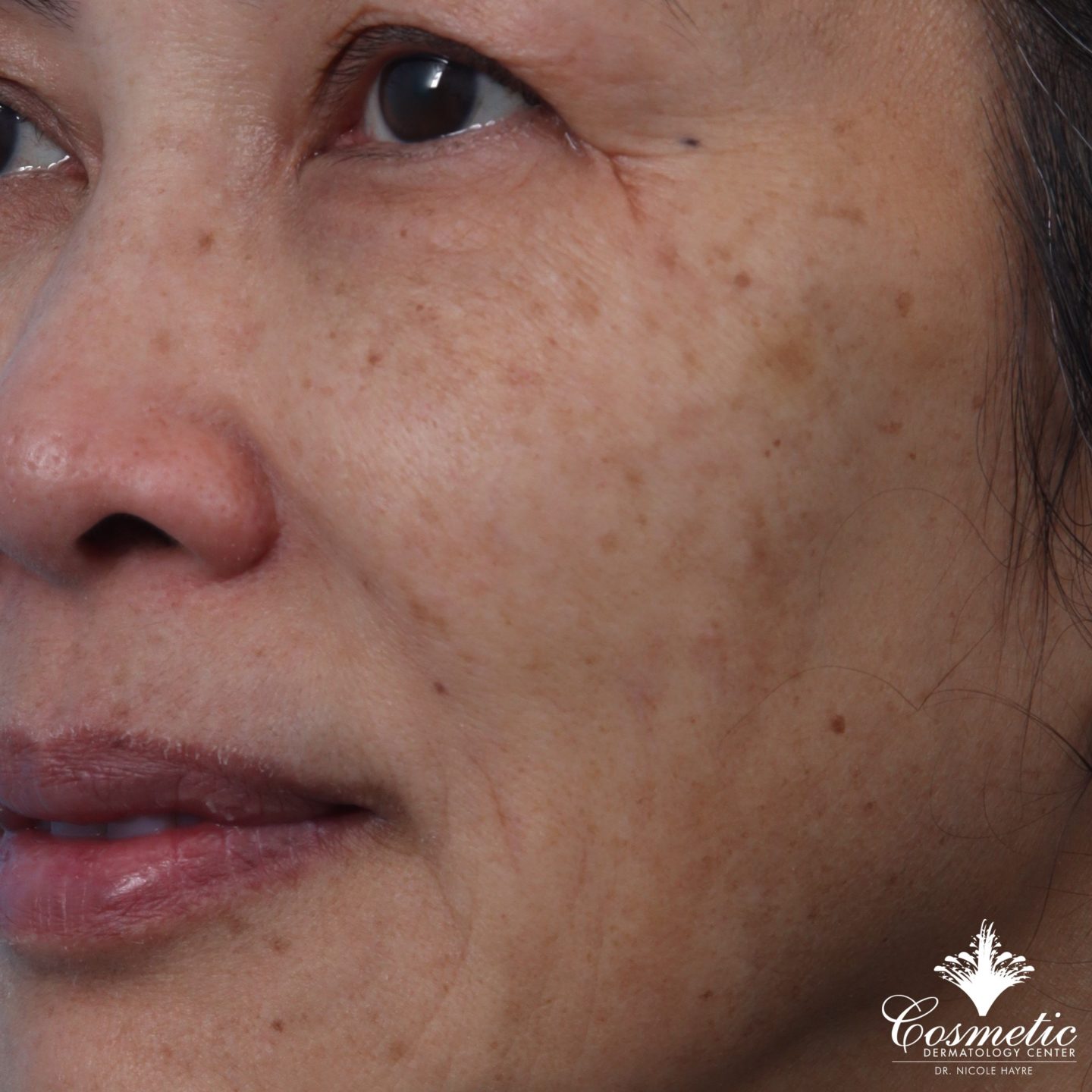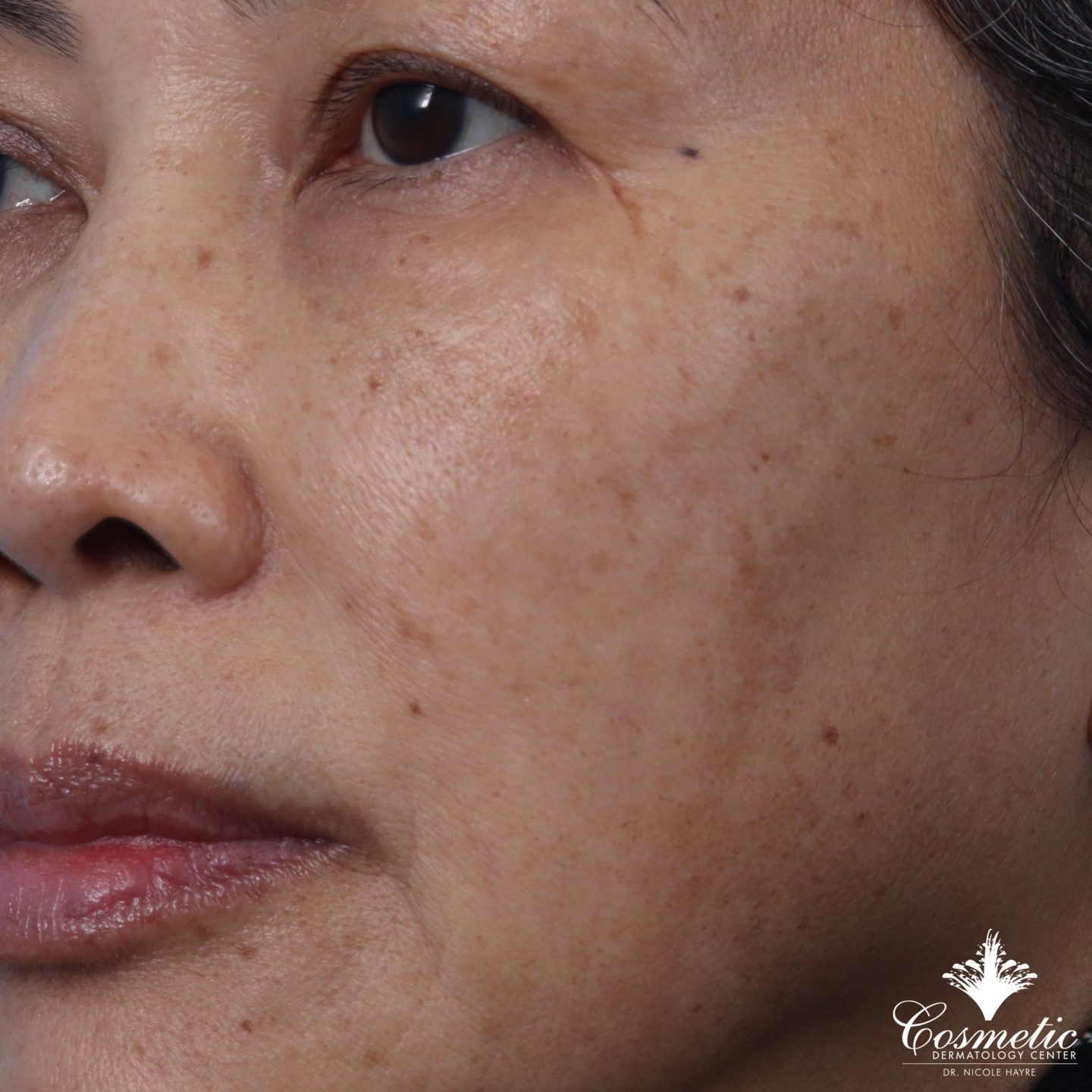 Patient with improved dark spots after 5 Dermafuse Brightening Treatments.