PRP for Men
Say Goodbye to Thin, Dull Hair With PRP for Men in McLean, VA
Nothing is worse than looking in the mirror one day and noticing your hair has started thin. Don't waste your money on over-the-counter products that don't work. Guys, experience hair rejuvenation with platelet-rich plasma, aka PRP for Men in McLean, VA.
What Is PRP for Men in McLean?
For men, hair thinning usually starts at your hairline by your crown and temples. You start to lose thickness and density, but PRP is here to help reverse that. It uses the healing power of your own platelets to jump-start your scalp into regenerating hair growth.
More About PRP for Men in McLean
What Does PRP for Men Feel Like?
Your PRP hair rejuvenation specialist retrieves the platelet-rich plasma suspended from your blood and turns it into an injectable that is applied meticulously to your scalp. The process isn't without a bit of discomfort, however. Like with any treatment where a needle is injected into the body, there is minor pain which is mitigated by the use of PRO-NOX and a gentle scalp massage near the injection site. Once your treatment is complete, you're allowed to return to your daily activities with minor discomfort that fades quickly with the assistance of Tylenol.
When Will I See Results?
Most men notice their hair growing back and getting thicker in about two to three months. To receive the maximum benefits of PRP for men in McLean, VA, it is best to get treatments once a month for three to four months, followed by treatments every three to six months after that.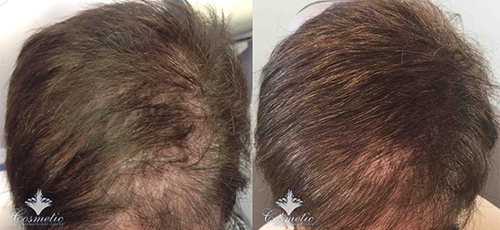 Am I a Good Candidate for PRP for Men in McLean?
If you've just noticed the signs of thinning hair and are in good health, you're most likely an ideal candidate for PRP. However, if you have extreme hair loss or your hair has been thinning for a while, you may need more invasive treatments. The best way to find out which treatment is right for you is by consulting a hair loss expert.
Where Can I Find the Best Place for This Remarkable Hair Loss Treatment for Men?
At Cosmetic Dermatology Center, we can help you stop your thinning hair before it gets out of control. PRP for hair takes just a few minutes out of your day, and there is no downtime. Contact us at 703-827-8600 or click the button below to schedule a consultation for PRP hair restoration.