How Long Do Fillers Last Tysons Corner VA
With dermal fillers taking the world by storm, many people are wondering "how long do fillers last in Tysons Corner VA". If you are interested in fillers, but have a few questions, then keep reading!
What are Dermal Fillers?
Dermal fillers are injectable treatments for wrinkles and lines, plumping up the skin or restoring lost volume. These gel-like substances like hyaluronic acid, calcium hydroxylapatite, and poly-L-lactic acid are injected beneath the skin.
How Long Do Fillers Last Tysons Corner VA?
As with any other skincare procedure, individual results will vary. Some dermal fillers last for 6-12 months. On the other hand, some can last between 2-5 years. The most commonly used dermal fillers contain hyaluronic acid, which is a natural compound that boost collagen and elastin production. As a result, it gives skin structure and plumpness, as well a more hydrated look.
There are many brands of fillers, but here are the longevity timelines for some of the most popular brands.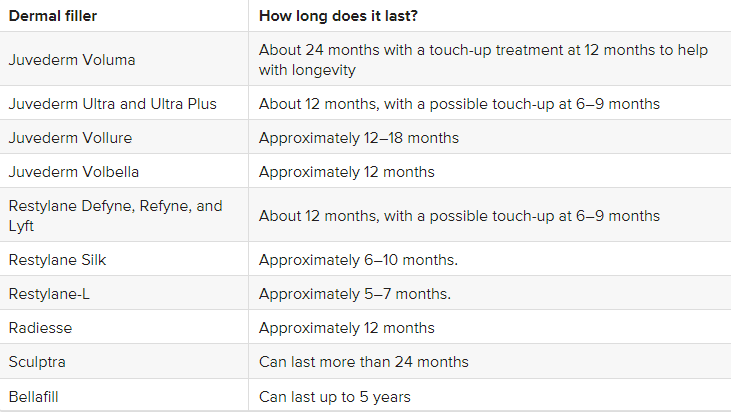 What Impacts Longevity?
Other than the type of filler that used, there are several factors that can impact how long your filler lasts. These include where the filler is used on your body, how much filler is injected, and the speed at which your body metabolizes the filler material.
During the first few months after being injected, fillers will begin to degrade. However, your results remain visible because fillers can absorb water. Once you reach the midpoint of the expected longevity of your filler, you will likely start to notice decreased volume. Doing a touch up at this point can help sustain your results much longer.
Which Filler is Right for Me?
Finding the right filler can be a big decision. However, your provider can help you device which filler, or combination of fillers, is best for your body and goals. Remember that different fillers are formulated for different areas of the face.
How Long Do Fillers Last Tysons Corner VA
Dermal fillers can restore lost volume, plump the cheeks, add volume to the lips, rejuvenate eyes, fill in deep wrinkles and lines, and much more. If you are ready to learn more about dermal fillers, contact the Cosmetic Dermatology Center today.