Natural Results with Restylane Kysse Northern Virginia
Plump, beautiful lips add allure, enhance your smile, and make you look younger. Restylane Kysse in Northern Virginia is the perfect non-surgical way to get fuller, more enticing, younger lips. This FDA approved injectable filler has many benefits. Here's what you should know about Restylane Kysse in Northern Virginia.
Restylane Kysse
This is a new type of dermal filler specifically designed for the lips. It comes from a very successful line of Restylane dermal fillers. Like other dermal fillers, Restylane Kysse smooths and adds volume to your lips. Also, it can be applied with various techniques and customized precision to shape the lips in way that brings out your natural beauty. More importantly, these changes are subtle, and retain your lips' natural softness and flexibility.
Treatment Areas
Restylane Kysse adds volume to the lips. So, it is great for anyone who wants plumper lips, or needs to restore lost volume due to aging. Additionally, it smooths lip lines, adds definition to the lips and complements your natural beauty.
How Restylane Kysse is Different
Restylane Kysse in Northern Virginia is made with hyaluronic acid, like other FDA approved fillers. This is a naturally occurring compound in your body. It helps the skin retain moisture and volume. However, Restylane Kysse is special.
What sets Restylane Kysse apart is the innovate cross-linking properties of the gel. This proprietary XpresHAN Technology was developed just for Restylane Kysse. It created a filler that enhances the look of lips while maintaining their softness, flexibility, and natural movement.
Benefits of Restylane Kysse
First, the main benefit is that it gives natural looking and natural feeling results. Not only will your lips look beautiful, but they will also feel soft and flexible too. And they will move naturally with your facial expressions. Other benefits include: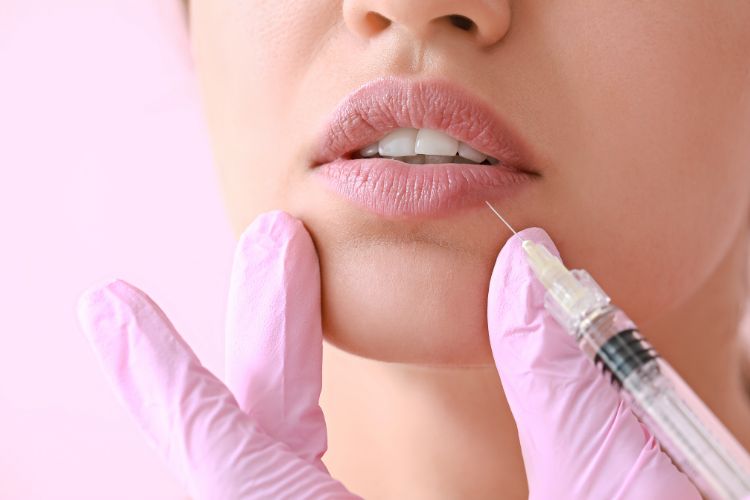 More comfortable. Kysse is formatted with lidocaine, a numbing medication, to make the injection more comfortable. Also, the tiny particles in the formulation allow providers to use a very fine needle which also increases your comfort level.
Long-lasting Results. Clinical trials showed that an astounding 78% of patients were still happy with their results a year after treatment. Other brands typically require maintenance treatments after 3-6 months.
Quick. Restylane Kysse treatment only takes around 15-30 minutes, making it great for nearly anyone's schedule.
More About Restylane Kysse in Northern Virginia
Get plumper, smoother lips that move with your smile with Restylane Kysse. To learn more, please contact Cosmetic Dermatology Center today to schedule a consultation.