Dermal Fillers: A Great Way to Quickly Relieve Dark Circles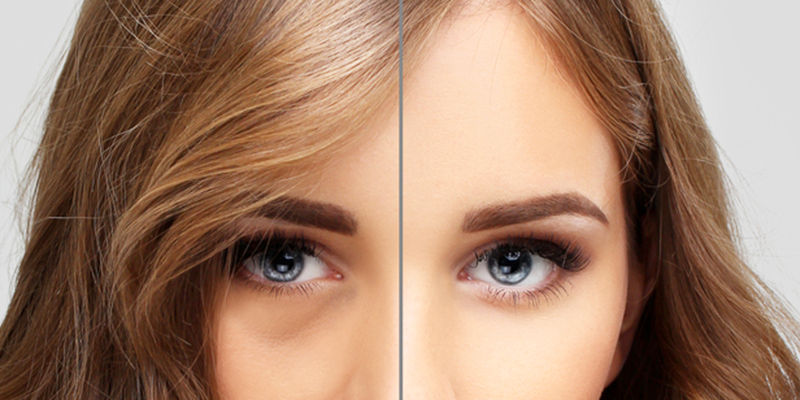 Individuals with dark under eye circles are often asked if they are tired or sick. In an effort to diminish this darkness, many of these patients have tried a variety of expensive creams or made lifestyle changes.
Unfortunately, these attempts may be unsuccessful if a tear trough or orbital abnormality exists. In these cases, a dermal filler of hyaluronic acid can be a quick, painless, and extremely effective way to treat dark circles.
What Causes Dark Circles Under the Eyes?
There are a several pigmentary and vascular factors that contribute to dark circles. These concerns can often be treated superficially with lasers, creams, sleep hygiene and increased hydration.
However, tear trough or orbital abnormalities are caused by thinner fat pads under the eyes that produce hollowness. It is this hollowness that casts dark shadows that appear as under eye circles.
How to Treat Dark Circles With Dermal Fillers
Because the root of the problem is thin or decreased fat pads, a dermal filler of hyaluronic acid can be injected into the tear trough area to restore volume and decrease dark circles.
Top plastic surgeons emphasize that it's important to select an experienced provider that is familiar with injectables and can choose the most appropriate filler for the under-eye area.
For the tear trough, most injectors use a light weight and soft filler like Belotera Balance or Restylane Silk.
What to Expect From a Filler Injection to the Tear Trough Area
Before their appointment, patients should avoid alcohol and blood-thinning medication and supplements.
On the day of treatment, the injector will mark and cleanse the treatment area. Next, a very thin needle is inserted below the skin to administer the filler in a smooth and even fashion.
There are typically 3-5 injections to each side, and the procedure is completed in 30 minutes or less. At the end, the tear trough area is massaged to avoid any textural irregularities or lumps.
Post-Care Information
Patients can see an immediate reduction in dark circles post-procedure.
Additionally, the treatment has minimal to no downtime and side effects may include slight bruising, swelling, or discomfort.
Results typically last up to 9 months, at which time, patients will require touch-up injections.
To learn more about banishing dark circles with dermal fillers, please call (703) 663-6238 or visit us online to schedule an appointment with Dr. Nicole Hayre.