Doe Microneedling With PRP Really Work?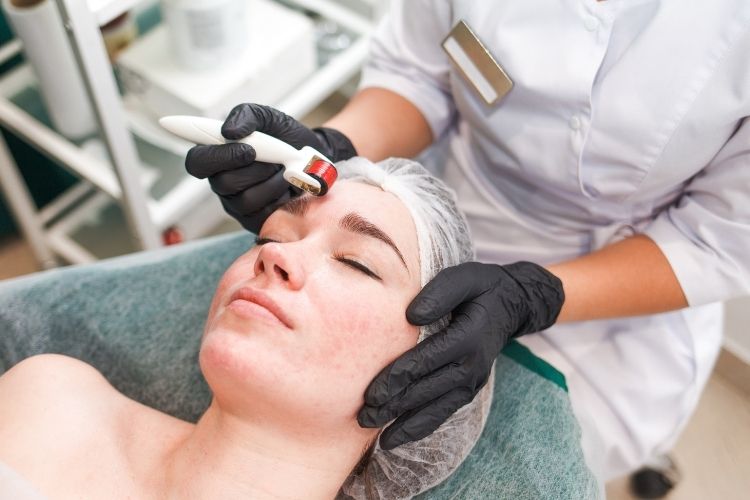 Microneedling with PRP, known by celebrities like Kim K as a vampire facial, is the best of both worlds, offering many skin healing benefits. But, does microneedling it really work? And, if so, how long will you get to enjoy your results? Here's the scoop on this unique cosmetic procedure.
What is Microneedling With PRP in Northern Virginia?
Microneedling with PRP (platelet-rich plasma) takes both procedures to the max. What sets it apart when the two treatments are performed on their own though?
A typical session consists of your provider using a special device with small needles to prick your skin and kick-start collagen production. PRP (the platelet-rich plasma that is taken from your own blood after being spun in a centrifuge), applied via injection or topically, is then able to penetrate deeper and more effectively than as a standalone treatment.
A powerhouse of a combination, microneedling stimulates your collagen production while PRP heals your tissues at an accelerated rate. You'll notice improvement in wrinkles, scarring, age spots, hyperpigmentation, skin laxity, moisture retention, and more!
Does Microneedling With PRP Really Last, and for How Long?
But does it really last? You want the most out of your treatment, and that's understandable.
Not only does microneedling with PRP work great, it's long lasting too! Patients benefit anywhere from one to six treatments in order to reach their desired results. Once those results are achieved, they can last for six to even 12 months!
What determines the longevity of your treatment are multiple factors, including age, lifestyle, and the specific skin concern you wish to treat. Ultimately, patients get to enjoy their optimal results for a long period of time, especially if they maintain proper skin care and a healthy lifestyle.
Visit Dr. Hayre for Highly Effective Skin Care Treatments in Northern Virginia
Dr. Nicole Hayre specializes in personalized microneedling treatments, which can include platelet-rich plasma for a vampire facial!
If you're interested in microneedling with PRP in Northern Virginia, or other skin rejuvenation treatments at the Cosmetic Dermatologist Center, then call our team today at 703-827-8600 to book, and be on your way to great skin in no time!