Botox for Men: Kill Crow's Feet in Northern Virginia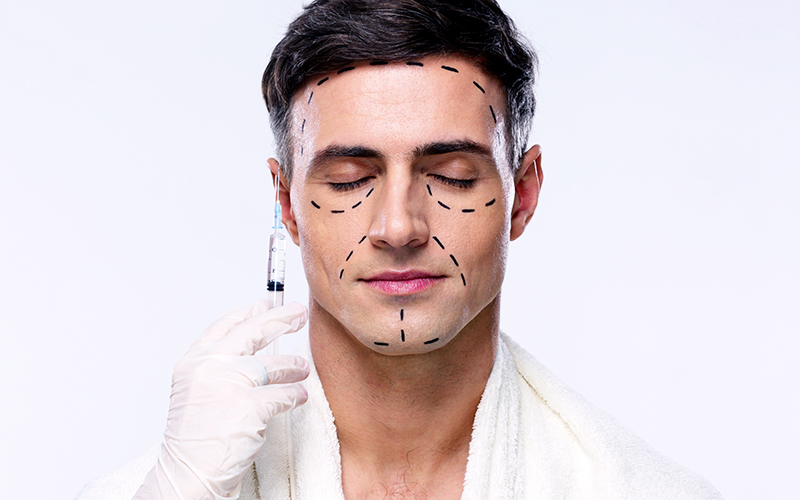 Just like their female counterparts, guys want to look and feel their best too — making Botox for men in Northern Virginia a no brainer.
Therefore, it's not surprising that more men are opening up about their experience and results with their guy friends.
In fact, the rising popularity of Botox among men has even earned its very own nickname – Brotox.
This cosmetic injectable allows guys to smooth pesky crow's feet and other facial wrinkles that can make them look tired and older.
Plus, the treatment is quick, effective, and requires zero downtime.
Here's why Botox is becoming a go-to procedure for guys to combat crow's feet and other signs of aging.
What is Botox for Men?
Botox is a synthetic neurotoxin that has a variety of medical and cosmetic uses. It's probably most well-known for its ability to diminish fine lines and wrinkles for a refreshed and more youthful appearance.
How Does Botox Work?
When mixed with sterile saline, Botox can be injected into the face to block nerve signals and inhibit muscle contraction.
As a result, it limits facial movements and expressions (i.e. squinting and frowning) that can cause wrinkles to form or worsen.
Thereby, Botox is able to treat existing lines and prevent future ones from developing.
While Botox Cosmetic is approved for use on forehead and frown lines, many guys seek it to diminish crow's feet.
It's able to address this specific concern by relaxing the muscles surrounding eye corners to produce smoother skin.
What Can Men Expect From Their First Botox Treatment?
First and foremost, patients should seek a skilled injector, preferably one that regularly performs this treatment on men.
Male patients often require more Botox as they have stronger facial muscles, and the product should be carefully placed to preserve a masculine facial structure.
Depending on your threshold for pain, a topical anesthetic or ice can be applied beforehand to numb the skin.
Botox is then precisely administered with an ultrafine needle and a series of injections.
The treatment is very tolerable and feels like a pinch or prick with some pressure. It takes between 10-15 minutes to treat crow's feet with Botox.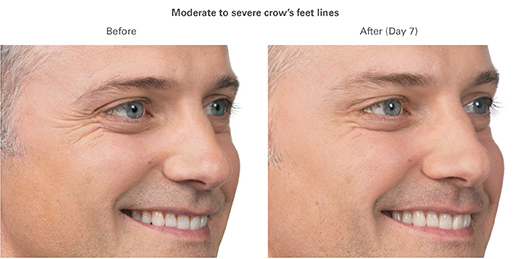 When Can Guys Note Improvement in Their Crow's Feet and Wrinkles?
Within 3 days of treatment, muscles around the eyes should start to deactivate and crow's feet will become less noticeable, especially when laughing.
Most men find that Botox allows them to look well-rested and younger, without any evidence of cosmetic work.
Results typically last 3-4 months, at which time, touch-up treatments can help maintain smoothness around the eyes.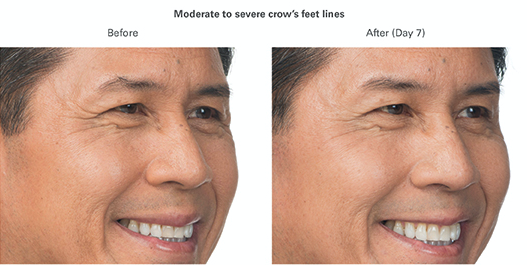 For additional information on Botox for men in Northern Virginia, please call our office today to schedule an appointment.