Q & A With the Best PRP Doctor for Hair Loss in Tysons Corner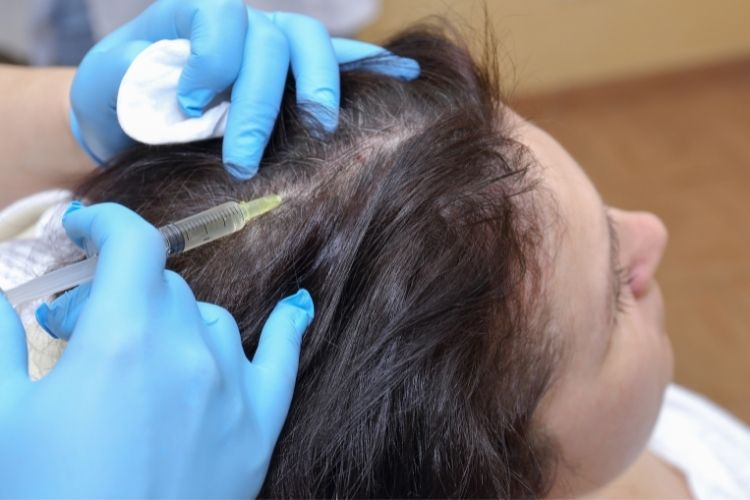 Platelet-rich plasma therapy, or simply known as PRP therapy, is an increasingly popular treatment for hair restoration. But you may be wondering how it works and whether it's right for you. Here's what the best PRP doctor in Tysons Corner has to say.
4 Frequently Asked Questions Answered By Our PRP Doctor in Tysons Corner
Below, get answers to some of the most common questions our PRP doctor in Tysons Corner receives on a weekly basis.
What Is PRP? How Does It Treat Hair Loss?
Platelets are a component of your blood, acting as the first responders when you receive an injury, rushing to the wound to stop bleeding and promote healing. What does this mean for hair restoration? PRP contains growth factors and proteins that speed up tissue repair.
This benefits you in terms of hair growth, healing the damage that may be causing your hair loss. This unique approach to hair restoration dramatically reduces the chance of an allergic reaction and has been proven especially useful for patients with androgenetic alopecia.
Who Is a Good Candidate for PRP?
A consultation with our PRP doctor in Tysons Corner is best to determine whether PRP is right for you. If you're experiencing androgenetic alopecia and are in overall good health, platelet-rich plasma therapy may be suitable for you. It is not recommended for patients who are heavy smokers or on blood thinners.
How Many Treatments Are Necessary?
This varies depending on the severity of your case, but most patients require four initial treatments (once a month), then two extra maintenance sessions spaced out three months apart for optimal results.
Does PRP Hurt?
No. The best PRP doctor in Tysons Corner should be able to deliver treatment relatively pain free! It's performed by drawing your blood and placing it into a centrifuge that then spins rapidly, separating the components of your blood to extract concentrated platelets. Your platelet-rich plasma will be injected into your scalp while an assistant massages the injection site. And if that's not enough, at Cosmetic Dermatology Center, we offer our patients PRO-NOX for an extra layer of protection from pain.
Visit the Cosmetic Dermatology Center for the Best PRP Doctor in Tysons Corner!
It's time to visit the best PRP doctor in Tysons Corner by contacting the Cosmetic Dermatology Center today at 703-827-8600! Say goodbye to low self-esteem and thinning hair and hello to a renewed you with thick, luscious hair!